Fokus Fabrik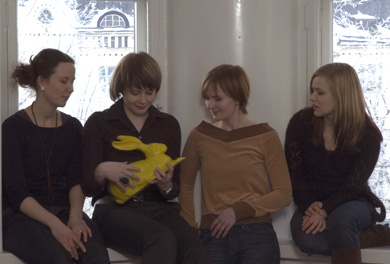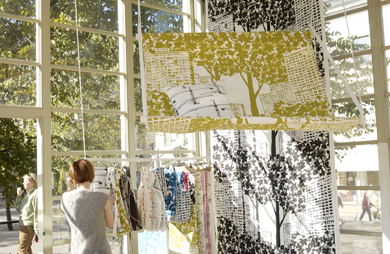 Out next is another group of fabulous women, the women behind
Fokus Fabrik
, a Finnish textile company, with dynamic, colorful fabrics inspired by nature and urban environments.
Can you tell us a little about Fokus Fabrik and how it all got started?
Fokus Fabrik consists of four textile designers (Eronen, Heikkinen,Järveläinen, Kerman). The first Fokus Fabrik collection came out in March 2006. We have been working together since year 2004 by participating in textile fairs, but as individuals. At that time we noticed that
together we posses an unique combination of creativity and knowledge. So, we started a company in October 2004. In Porvoo we have an atelier and a small factory, where we print all our fabrics.
All of us have our own style, but at the same time our designs are similar, with modern and graphical touches.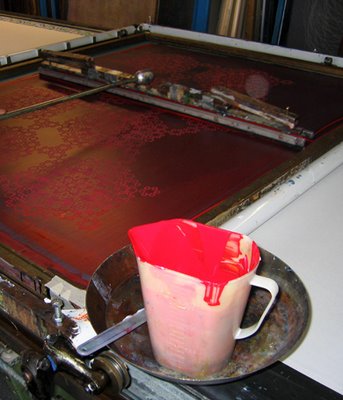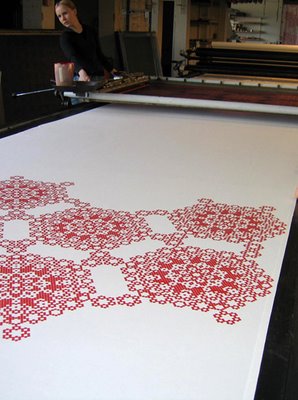 The printing process
It's clear that nature is an important source of inspiration to all of you at Fokus Fabrik.
For us nature is a wide concept - except grass, trees etc we see that nature also includes people, buildings and traffic - modern infrastructure in general. For many modern people of 20th century, classic nature is quite hard to reach and we need to find the nature from our
daily surroundings.
What's your relationship to nature?
Nature is important to us, not only aestethically, but also because of our interest in the state of the environment. To live in harmony with nature is something that we consider in our every day life, as well as in our design.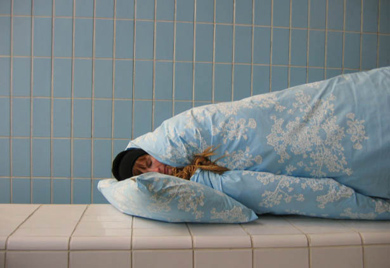 How does nature inspire you in your work?A lot of your work is also inspired by urban spaces, and the relationship between the urban environment and nature, can you tell us more about this?
Nature - or surroundings - inspires us day after day. The continuosly changing landscape with hurrying people, pulsing traffic, serene nature gives every day something to think about. For example a week ago there was green grass all around and today there is white snow.
I understand that the location of the Fokus Fabrik studio is very special, can you talk a bit about what you enjoy most about it?
Our little factory is located by the river of Porvoo, not far away from the old town. Porvoo is a picturesque town with old wooden houses from the 1800-century. Porvoo is well known for crafftsmen, artists and nowdays for designers. And it is only 50 km from Helsinki, capital of
Finland, where we stop by now and then enjoying the city life.
Visit their website for more information:
Fokus Fabrik